We are pleased to share an overview of upcoming works as part of the Brantford General Hospital (BGH) Emergency Department (ED) Renovation Improvement Project to support the delivery of timely and high-quality patient care. These works are scheduled to begin October 16, 2023.
Please be aware of the below operational changes that will be in effect during Phase 0A and Phase 0B. The outlined works are anticipated to last for approximately one year.
Phase 0A – beginning October 16, 2023
Street closure
To facilitate construction work, Terrace Hill Street will be closed to all non-emergency traffic along the length of the hospital from St. Paul Street to Elizabeth Street. The A-wing roundabout entrance and exit will be on Elizabeth Street to allow patients to access the emergency department and dialysis during the street closure.
Read the Letter to our Community | Read the Media Release
Entrance changes
As indicated on the map above, the work in Phase 0A is concentrated on the Ambulance offload area and Volunteer Engagement office. During the construction, Emergency Medical Services (EMS) will enter Brantford General Hospital (BGH) through the A-wing entrance. ED patients will also be directed to use the A-wing entrance and proceed down the level 1 hallway to access the ED. During this period:
A-wing Entrance is for emergency and dialysis patients, labouring and pregnant people, and individuals with accessibility needs only. All other patients will be directed to the D-wing entrance.
Dialysis patients are still permitted to enter through the A-wing entrance.
The A-wing roundabout is for Emergency and Dialysis drop-off only. Please remember that there is no parking in the roundabout.
Employees, professional staff, and volunteers are requested not to use the A-wing entrance. Please use Door 44 (formerly the COVID staff exit) to access A-wing. This entrance has badge access to A-wing level main, level 1, and level 2.

Door 44 is not AODA-accessible. Any employee, professional staff, or volunteer with accessibility needs will be permitted to use the A-wing sliding doors.
We need your support to keep the area clear for EMS. Please try to avoid entering the A1 corridor unless to access your work area.

There will be a security guard and PSW at the A-wing entrance to help redirect patients and staff who should not be entering through the A-wing sliding doors, and to help clear the corridor for EMS arrivals.
Parking
The parking garage and lot F (near E-wing) will be reserved for patient and visitor parking only. Card access will be adjusted for employees and professional staff. Any staff with accessibility requirements are permitted to park in the parking garage.
All employees, professional staff, and volunteers are requested to park in Parking Lots C, B, and G. All non-emergency patients and visitors are requested to use the parking garage. The physician lot remains in Lot A.
Signage will be posted that Lot C will be reserved for staff and Dialysis/ED patients only, and Lot B is reserved for staff and ED patients only. This will be enforced as best as possible, but access cannot be denied to these lots.
The Lot C entrance/exit will remain unaffected, however approach is only possible from Terrace Hill Street between Elizabeth Street and West Street.
Lots A&B are only accessible via Dundas Street and McClure Avenue.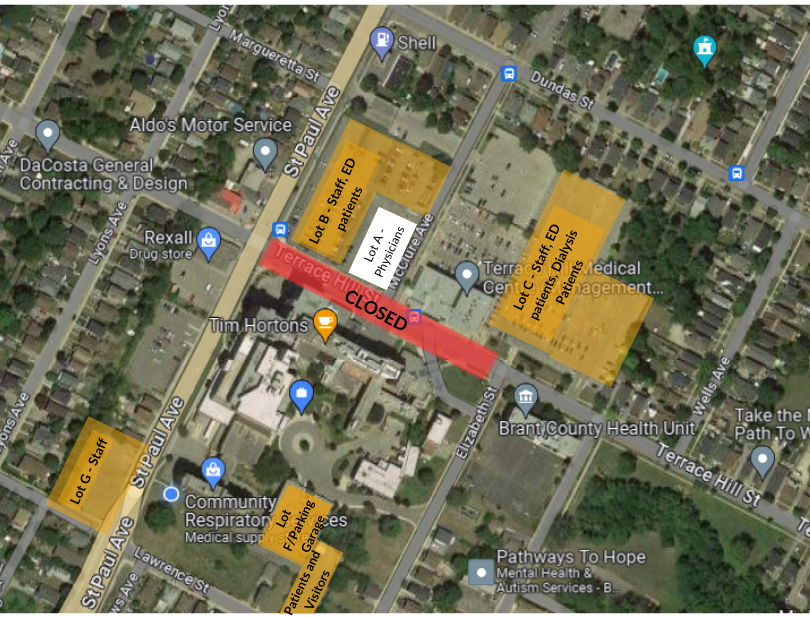 Door hours
The A-wing main entrance and the ED waiting room door will be open 24/7.
A-wing Tim Horton's
The A-wing Tim Hortons will remain open and accessible. Line barriers will be implemented to help funnel any traffic in the A-wing lobby area outside of Tim Horton's. Where possible, please try to use the D-wing location to reduce traffic or crowding in the A-wing lobby. The D-wing Tim Horton's will expand its staff and food offerings to meet changing demand.
Volunteer Information Kiosk
The Volunteer Information Desk will be moved to D-wing to support increased patient and visitor traffic.
Phase 0B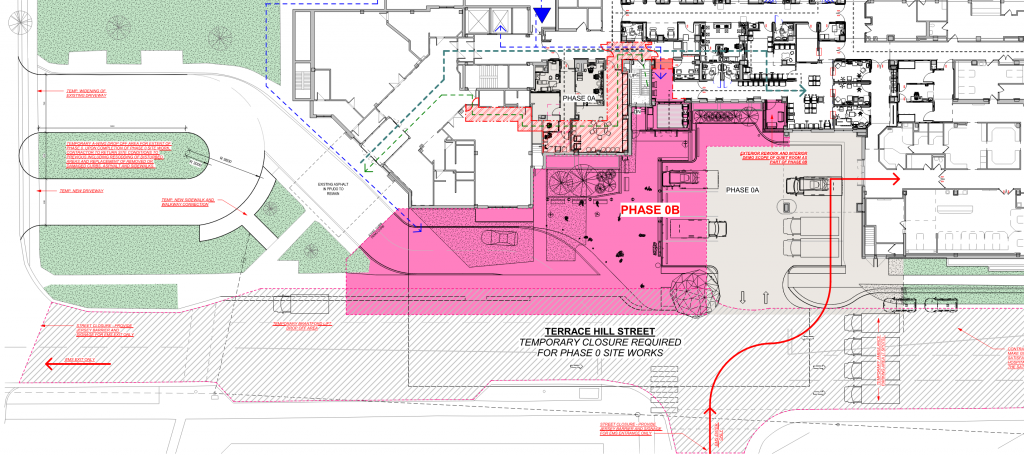 EMS offload will move back to the Ambulance canopy. The A-wing entrance will go back to full access for staff, patients, and visitors.
All walk-in ED patients will continue to use the A-wing entrance.
Decanting Update
On October 4, Volunteer Engagement will move from its current location on A1.117 to A-Main room 117 (one floor down).